Remember that picture of Sonic I showed you?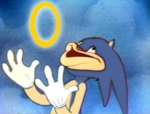 IT'S AN EDIT, INCASE YOU DIDN'T KNOW ALREADY.
I was randomly searching the internet, and I found the TRUE picture.
This above image was from a deleted Looney Tunes scene from the 1942 episode, "Any Bonds Today?"
The Censored Looney Tunes and Merrie Melodies Guide wrote:Some prints of this 90-second World War II propaganda short are missing Bugs' blackface impression of Al Jolson.
So there you have it. Quite a bit of history today, huh?